Construction underway at Asparagus Point
20 August 2018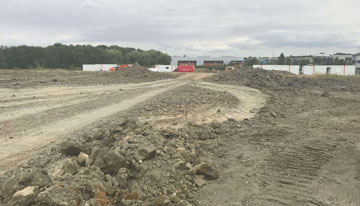 Work has started on a new industrial estate at Vale Park, Evesham.
Property company Hortons' Estate Limited is speculatively building 39,450 sq ft, comprising eight units ranging in size from 3,500 sq ft to 6,000 sq ft at the development, called Asparagus Point.
A 15,000 sq ft unit is also being built on behalf of Leamington Spa based storage, removals and van hire company Squab, which acquired the freehold property from Hortons' Estate earlier this year.
Construction company J Tomlinson was awarded the £2.6m contract to build the scheme. Work is scheduled to be completed in December.
Richard Norgrove, property director at Hortons' Estate, said: "There's a scarcity of good quality industrial units in Evesham, which is hampering businesses looking to relocate to the area or expand their existing operations.
"We recognise there is an immediate need for space, which is why we have committed to speculatively building nearly 40,000 sq ft at Asparagus Point to help redress the supply and demand imbalance."
The units will be available on a leasehold or freehold basis.
Agents for the development are Fisher German and Harris Lamb.
Back to news