Hortons' estate completes 18,000 sq ft unit
27 August 2019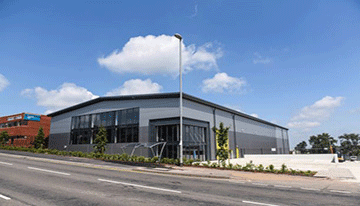 Storage company SureStore acquired the 1.5 acre site on Eastern Avenue from Hortons' Estate in February this year to build its latest facility.
Located on Eastern Avenue, the new state-of-the-art facility is currently being fitted out and is scheduled to open at the end of September.
James Slater, principal building surveyor at Hortons' Estate, said: "Since the sale of the land earlier this year, we have been working hard to ensure the timely delivery of the unit on behalf of SureStore. I'm pleased to say we completed the project both ahead of schedule and below budget."
SureStore currently operates four facilities across the Midlands and North West, including Bolton, Cannock, Northwich and Bury, with plans to open a further seven facilities, including Lichfield, within the next twelve months.
Andy Wood from SureStore said: "We are very pleased to have worked with Hortons' Estate to produce an excellent addition to our portfolio."
Back to news