Hortons' Estate limited appoints new Chief Executive
11 September 2018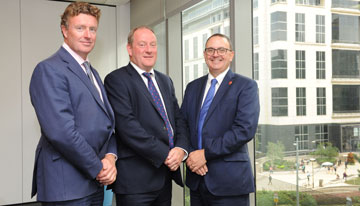 Stephen Benson is to take on the chief executive's role at Birmingham-based family owned property company Hortons' Estate Limited.
He will take over the role from Tony Green at the firm's AGM on 24 January 2019, but will be joining in the New Year to work alongside Tony on the handover.
Stephen is currently a director in the UK investment team at Savills. One of the Midlands' most highly respected commercial property investment advisers, he has more than 25 years' experience in the industry, advising UK pension funds, property companies and private investors and developers on investment acquisitions, disposals, development funding and joint venture structures, as well as providing longer term strategic advice.
Stephen was previously managing director of Richard Ellis' Birmingham office, leaving in 2003 to co-found GBR Property Consultants. This later merged with GBR Phoenix Beard, which was acquired by Savills in 2016.
Hortons' Estate Limited is one of Birmingham's oldest property dynasties, celebrating its 125th anniversary last year. The company boasts a portfolio of retail, hotel, office and industrial properties and land located throughout the Midlands, valued at more than £250million.
Tony Green has spent more than 18 years at Hortons' Estate, initially as finance director then taking on the chief executive role in 2009.
Peter Horton, chairman of Hortons' Estate, said: "Tony has led the task of modernising and diversifying the Hortons portfolio over the last decade and it has been a privilege to work alongside him.
"His dogged determination in helping to restore The Grand on Colmore Row to its former glory is a huge part of his legacy and we wish him well as he leaves to pursue new business challenges".
"I am looking forward to working with Stephen as Hortons continues its evolution."
In his new role Stephen will work alongside executive directors Richard Norgrove (property) and David Freeman (finance), heading Hortons 30-strong team of staff.
He said: "Hortons is a key property owner within the Midlands market with a highly respected team and I look forward to working with them to continue to grow the asset base and income through investment and development, whilst the company continues its contribution in shaping the regional property landscape in the decades ahead."
Simon Farrant, head of Savills Birmingham, said: "Stephen has been a great asset to the national investment division and our Birmingham office, playing a key role in the successful integration of Savills and GBR Phoenix Beard.  We support his move to Hortons and wish him well in this exciting role."
Back to news