Hortons reveals CBD plans
23 April 2013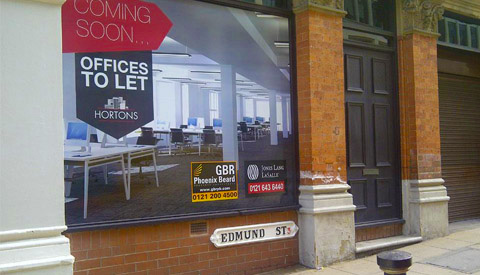 Hortons has unveiled refurbishment plans for Enterprise House and Innovation Court in the Colmore Business District.
The property company will step up its marketing efforts for the two schemes on Edmund Street over the coming months.
The £1.2m programme of works is set for completion in early summer, encompassing enhanced reception areas and upgraded air conditioning systems, as well as improvements to the general office areas.
Steve Tommy of Hortons said:
Hortons is committed to developing a lasting presence in the city, and our strategy for Enterprise House and Innovation Court has always been to offer a unique working environment for our clients. We are confident that this will be well received by the office market.
We hope to attract business occupiers with long-term aspirations to grow in the city. Our investment in these schemes is a sign of Hortons confidence in the central Birmingham office market and the appeal of this prestigious part of town.
Richard Fletcher-Brewer, an associate director with GBR Phoenix Beard's office agency team, has been retained to market Enterprise House and Innovation Court, alongside Jones Lang LaSalle.
Fletcher-Brewer added:
The shortage of substantial grade A office space in Birmingham has been widely documented, and I have a real concern about the city's ability to accommodate enquiries for superior office facilities.
Enterprise House comprises 13,736 sq ft of office space over four floors, and Innovation Court has 8,578 sq ft of vacant space over two floors, made up of 4,550 sq ft and 4,028 sq ft.
Enterprise House and Innovation Court represent part of a wider mixed-use scheme owned by Hortons which incorporates retail as well as leisure operators.
Back to news