Hortons sells Birmingham office building to BVSC
26 July 2023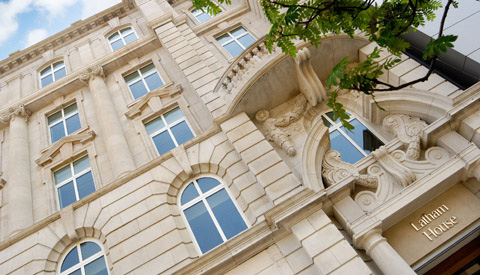 Hortons' Estate Ltd has announced the sale of a city centre office building in Birmingham.
Hortons has sold Latham House on Paradise Street to one of the UK's largest voluntary sector support organisations, Birmingham Voluntary Service Council (BVSC).
BVSC will relocate to Latham House from its interim premises in Livery Street, having moved from its long-term base in Digbeth in 2022. Its ambition is to create a new hub for the city's voluntary, community, faith and social enterprise (VCFSE) sector, with work expected to start on the reconfiguration of the building later this year.
The sale of Latham House follows the development of a strategic cross-sector relationship between Hortons and BVSC, which builds on the property company's well established corporate community relations. Hortons will remain in occupation as a tenant on the building's fourth floor.
Latham House lies adjacent to Birmingham Town Hall and the new Paradise development. It comprises nearly 24,000 sq ft of commercial accommodation arranged over basement, ground and six upper floors, with a typical floor plate of c. 4,000 sq ft.
Originally built in 1911 by renowned architect, A. Gilbey Latham, the building was formerly home to Birmingham's Daimler dealership and is characterised by its impressive Edwardian baroque stone façade, which was fully restored by Hortons.
Steve Benson, chief executive of Hortons, said: "We are pleased to complete the strategic sale of Latham House, which provides the opportunity to recycle funds into other projects. Hortons has been highly acquisitive in the last twelve months, investing in new industrial/logistics estates in the Midlands. It has enabled us to develop a balanced portfolio that includes six million sq ft of office, industrial, retail and leisure properties."
Brian Carr, chief executive of BVSC said: "We are delighted to have been able to secure such a strong and visible asset on behalf of Birmingham's community and voluntary groups. Latham House offers us a real opportunity to create a lasting presence for the entire VCFSE sector in the city centre, and we're grateful to Hortons in helping us to make this vision a reality.
"Our aim now is to create a welcoming, inclusive space that will allow a diverse range of organisations and volunteers to work, meet and make strong connections so they can access all the opportunities Birmingham has to offer now and in the future."
Ben Kelly, director – capital markets at JLL, acted on behalf of Hortons. BVSC was represented by Andrew Brazier of Ryon Land and Peter Fowles of Peter Fowles Surveyors.
Back to news