Industrial estate ready to welcome first occupier
15 January 2019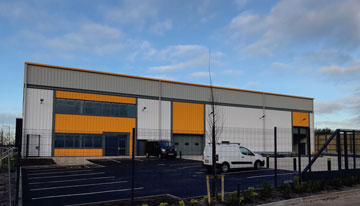 Leamington Spa based storage, removals and van hire company Squab will open a new facility in Evesham in the Spring, following the completion of a 15,000 sq ft unit at Asparagus Point, Vale Park.
Squab, which also has a facility in Daventry and Leamington Spa, acquired the freehold of the unit from Hortons' Estate Limited in 2017 as part of its plans to expand the business by opening a third operation in Evesham.
Property company Hortons, which owns Asparagus Point, built the unit on behalf of Squab. It has been completed just five months after work started.
A further eight units, ranging in size from 3,500 sq ft to 6,000 sq ft, have been speculatively built by Hortons' at Asparagus Point. The units are due to be completed by the end of January and will be available to purchase (or to let), with prices starting from a base cost of £120 per sq ft.
Richard Norgrove, property director at Hortons', said: "We're looking forward to welcoming Squab to Asparagus Point. As a successful family-run business we're hoping its presence on the estate will help attract further businesses.
"Once complete, Asparagus Point will deliver in total nearly 40,000 sq ft of industrial space to the market at a time when good quality accommodation is in short supply, particularly smaller units in the area.
"For businesses looking to own their own property, this is a rare opportunity to acquire an industrial unit."
Wolverhampton-based architect, Tweedale, has been working on Asparagus Point with Hortons' since 2011. Its director of architecture, Michael Bates, said: "The development of this industrial park has been several years in the making, and during that time we are pleased to have formed a great working relationship with Hortons'.
"We're thrilled that this bespoke unit has been completed. It will provide a great working environment for Squab for many years to come."
An open morning at Asparagus Point for prospective local occupiers is planned for Friday 1st February followed by an agents' launch event on Friday 8th February. For further information contact joint agents Fisher German or Harris Lamb.
Back to news