Octopus Energy checks into Birmingham's Imperial and Whitehall
18 March 2021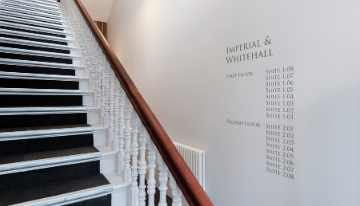 Octopus Energy, the green energy supplier and fastest growing private company in the UK, has chosen one of Birmingham's most iconic buildings as the location for its first ever office in the city.
The fast-growing energy technology company has agreed a three-year lease with landlord Hortons' Estate Limited on a 1,123 sq ft first floor office suite at the Grade II* listed Imperial and Whitehall at 23 Colmore Row.
Following successful launches and expansions in Brighton, Leicester, Warwick, Newcastle and Manchester, the company – which supplies over 2 million households in the country – has chosen Birimingham for another dedicated sales office, where agents will be trained by Octopus directly to provide advice on switching and products. The company will be aiming to hire 40 people locally in the next year, as part of its aim to create 1,000 green jobs in the UK in 2021 – a commitment which was endorsed by Prime Minister Boris Johnson and Chancellor Rishi Sunak in October 2020.
Octopus Energy moved into the office space made available by previous occupant, Node. Hortons' has retained the urban planners as a tenant, agreeing flexible lease terms in a smaller suite in the same building.
Imperial and Whitehall forms part of The Grand, which was originally built by Issac Horton in the 1870s. The office accommodation was refurbished and offers flexible working office suites, whilst retaining many original features which gives character to the space.
The new lettings to Octopus Energy and Node mean that all of the building's first floor office space is now let, with the only remaining suites being on the second floor.
Nina Meeks of Hortons' Estate, said: "Imperial and Whitehall is an historic building in the heart of Birmingham's Colmore Business District, that has been refurbished to exceptionally modern standards. We are very pleased that our investment in the building has attracted Octopus Energy to base its new Birmingham office here and we wish them every success. It is equally satisfying that we have been able to work closely to retain our existing occupier, Node, to meet its requirements and facilitate its move to a more suitable office suite."
Neil Woolley, Director at Octopus Energy, commented: "We're so excited to be bringing so many  green jobs to Birmingham through our new dedicated sales office. Birmingham will become a hub for training up our staff to spread the word about cheap green power, and get more and more people to join the renewable energy revolution."
For more information on availability at Imperial and Whitehall, please contact joint letting agents Johnson Fellows and Lambert Smith Hampton.
Back to news