Precious alter cross restored to former glory
12 February 2015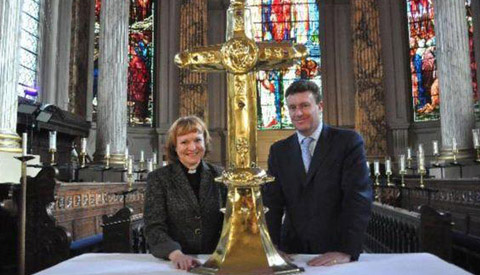 The precious altar cross at Birmingham Cathedral has been restored to its former glory for this year's 300th anniversary celebrations.
When St Philip's was consecrated as a cathedral a new altar cross was commissioned.
The 1905 cross is a magnificent piece of art made by local art metalworker and jeweller John Paul Cooper.
But the passing of the years left it in need of restoration and the work has now been completed thanks to support from property company Hortons' Estate Ltd.
The restoration is timely, for 2015 marks the 300th birthday of the church of St Philip's which was was consecrated in 1715.
A series of events are planned to celebrate the milestone and the growth of the church into a cathedral, which mirrors the growth of Birmingham into a city.
Hortons' Deputy Chairman, Peter Horton visited the cathedral to view the conserved cross with the Dean of Birmingham Catherine Ogle. He said:
We are delighted to have been able to facilitate the restoration of this wonderful work of art as part of our ongoing support for Birmingham Cathedral. "We are well aware of the challenges of maintaining historically significant buildings such as the Cathedral and are committed to all we can to assist in this important work going forward.
The restoration is part of the cathedral's ongoing commitments to the fabric upkeep of St Philip's.
Rev Ogle said:
We are delighted to have the ongoing support of Hortons' Estate, one of our closest neighbours on Cathedral Square.
We watch with interest as work progresses at the Grand Hotel, and take a lot of comfort in the pride and share responsibility that we have for this wonderful area of Colmore Row, within the heart of the city.
Whilst Hortons' Estates have been loyal supporters for several years, we are particularly grateful for this specific support for our 1905 cross; it is a delight to see it restored to its former glory.
Back to news