Promotion for Steve Tommy and James Slater
12 May 2021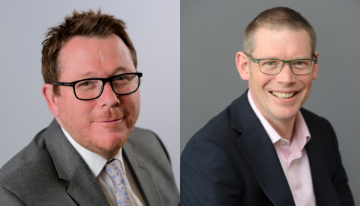 Independent property company, Hortons' Estate Ltd has announced the internal promotion of two members of its team, with almost half a century of service between them.
The historic family-run firm which is based in Birmingham city centre, has promoted Steve Tommy to head of asset management and James Slater to head of building surveying and development.
Steve Tommy, a chartered surveyor, joined Hortons' in 1996 as an estate manager. He will head the company's estate management team and will be responsible for asset management within Hortons' portfolio.
James Slater has been part of the Hortons' team since 2000 and amongst numerous development projects has overseen the restoration of Birmingham's Grade 2* Grand Hotel, which was originally developed by Isaac Horton in the late 19th century. Also a chartered surveyor, he will lead Hortons' building surveying team and its construction and development functions.
Hortons' chief executive, Steve Benson said: "We're delighted to have promoted Steve and James to new positions which reflect their experience, expertise and responsibilities, as well as their tremendous service to Hortons'. Steve has an extensive knowledge of our tenant relationships, together with an excellent view on the future direction of portfolio growth, which makes him the ideal choice to lead our estate management team. James has a wide range of experience in dealing with all aspects of commercial property, from new builds and refurbishments through to professional matters. Both appointments further strengthen our business during an exciting period of growth and development."
Back to news