Rathbone move into Greyfriars Coventry
05 March 2013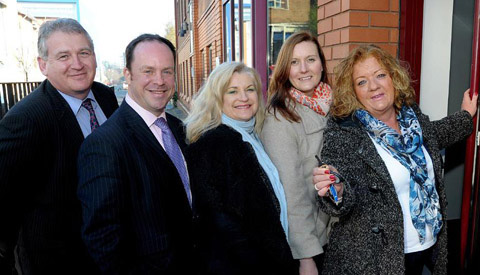 A charitable organisation that helps young people achieve their potential has agreed a move to a new office and learning centre in Coventry.
Rathbone, which has centres around the UK helping young people from 14 to 24-year-olds gain qualifications or access employment, has agreed a lease on Greyfriars Court at 10 Queen Victoria Road.
The organisation was assisted in its move to the Hortons-owned property, which will act as an office and learning centre, by Coventry-based commercial property specialists Shortland Penn + Moore.
Ellen Copperthwaite, Lead Tutor at Rathbone, said:
Many of the young people Rathbone works with come from disadvantaged backgrounds, so it is important that they are based in a prime city centre location that is easily accessible.
Many have not had a positive experience of education in the past so it is also vital that we create a positive, stress-free learning environment for them.
The new base will help us extend the provision we offer, so we are able to reach even more young people who otherwise might have drifted into joblessness. It puts us in the heart of the community and we look forward to the continued support of the employers who can help us inspire young people to progress and achieve.
The deal on the 6,500 sq ft offices, which are over four floors, is the latest success story for Greyfriars Court, which attracted leading national business organisation the British Chambers of Commerce last year.
Nina Meeks, of Hortons, said:
Rathbone does some very good work in a vital area and we are delighted it has decided to move into the city centre.
Greyfriars Court is ideal for this size of business or organisation who wants space in the heart of the business quarter. The building has a great range of units, and it adds significantly to the vibrancy of the area.
It is being jointly marketed by Shortland Penn + Moore and D&P Holt.
David Penn, managing director of Shortland Penn + Moore, said: "Good quality office space is at a premium in the city so the interest in Greyfriars Court comes as no surprise. "It is in a great location and offers small and medium-sized companies and organisations within the city the chance to expand."
A range of office suites are available at Greyfriars Court, from 856 sq ft up to around 7,000 sq ft.
For more information on the available space call Shortland Penn + Moore on 024 7623 2970 or D&P Holt on 024 7655 5180.
Pictured (left to right): Rupert Gillitt (D&P Holt), David Penn (Shortland, Penn & Moore), Ellen Copperthwaite (Lead Tutor, Rathbone), Nina Meeks (Hortons Estate), Lynne Whitehouse (Programme Manager, Rathbone).
Back to news