Shopping arcade gets a £375,000 facelift
29 November 2018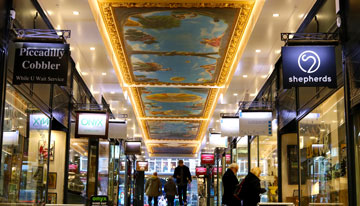 The popular shopping arcade on New Street, which is home to a range of independent boutique shops, has had new automatic glass doors installed at the entrances on New Street and Stephenson Street, and has been repainted and the lighting upgraded.
The arcade's impressive hand-painted ceiling mural has been retained.
Piccadilly Arcade is one of the city's oldest arcades. Originally built as a cinema in 1910, after its closure in 1926, the building was largely redeveloped into a shopping arcade. The cinema's original frontage can still be seen above the Stephenson Street entrance.
Today, tenants include Cotswold Outdoor, Faculty Coffee, Marco Benito, Petals of Piccadilly, Piccadilly Cobbler, Piccadilly Jewellers, Piccadilly Opticians, Smithsonia, Top Tailor, 16 Bakery, Shepherds Barbers, and Be At One.
The last remaining retail unit has been let to Top Tailor. Sayed Hashemi is expanding his tailoring business by opening a larger unit in addition selling leather goods and accessories such as belts, bags and wallets in his existing unit to compliment the tailoring arm of his business.
Hortons' Estate has agreed a 10 year lease on the 215 sq ft unit.
Jeremy Boothroyd from Hortons' Estate said: "It's nearly 100 years since Piccadilly Arcade was first opened, so it's fitting that it has been given a facelift ahead of this significant milestone.
"As one of the main thoroughfares between Grand Central and New Street, Piccadilly Arcade sees a lot of footfall. Its ornate ceiling is also something of a visitor attraction.
"Our investment ensures the arcade is well maintained and presented, for visitors and our tenants."
Back to news