Tattu set to make its mark on Brum
17 September 2018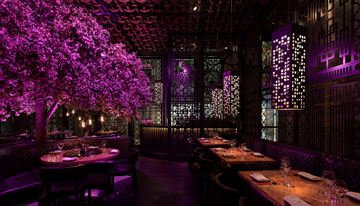 Tattu, which will be located at 18 Barwick Street and is part of The Grand development, is scheduled to open in 2019 following the fit-out of the ground and basement floor space.
The owners behind the new venture have signed a 25-year lease on 5,397 sq ft with landlord Hortons' Estate Limited.
The brainchild of brothers Adam and Drew Jones, Tattu offers contemporary Chinese cuisine that fuses traditional flavours with modern cooking techniques and playful presentation, served in the unique surroundings of each of its venues.
The first restaurant opened in Manchester's Spinningfields district in 2015, followed by a second venue in Leeds city centre which opened in 2017.
In addition to Birmingham, the award-winning restaurant group has also confirmed its fourth venue, which will be located in Edinburgh, is due to open in summer 2019.
Tattu currently employs 180 staff across its restaurants in Manchester and Leeds, which will grow to 350 employees with the new openings in Birmingham and Edinburgh.
Tony Green, chief executive of Hortons' Estate, said: "Having identified Birmingham as the city for its third venture, we're delighted Tattu chose our space on Barwick Street for the new restaurant.
"Forming part of The Grand, it's a unique space deserving of an equally unique bar and restaurant.
"Having visited Tattu's Manchester venue, we were immediately blown away and could see how the concept would work in the space and what it would add to the city's thriving dining scene. The Tattu team shared our vision and we can't wait to see the end result when it opens."
Adam Jones, managing director of Tattu Restaurants, said: "Beginning the fit out of Tattu Birmingham marks another milestone for our team and is always an exciting time for us all. Tattu is very much an independent family business and with this independence comes the ability to take extra time to make each restaurant special to the city it calls home. It has been a long process, and we have worked hard to create something completely unique for Tattu Birmingham.
"We know The Grand is an important part of the city's history and we are truly honoured to be a part of its regeneration. It is our first time working in a heritage space and therefore we knew extra attention to detail would be required. In delivering this new Tattu, we will be embarking on what is our most detailed and bespoke fit out to date. Each element, from the dishes on the menu to the magical cocktails and the whole customer journey, has been carefully considered to tie in with this new design. We're very much looking forward to sharing more details on our progress as the build gets underway."
The Grand is a Grade II* listed building owned by Birmingham-based property company Hortons' Estate Limited. The property, on Colmore Row, has undergone a multi-million pound restoration and redevelopment and includes shops, bars, restaurants, cafes and offices. The final element, the hotel, is under construction.
Back to news