The Grand Hotel Birmingham is Crowned Regional Winner: Central England in The Sunday Times, Best Places to Stay Guide
18 October 2021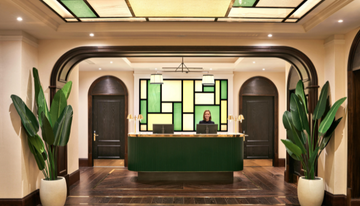 The guide features the 100 Best Places to Stay across the UK
The Sunday Times Best Places To Stay guide is a definitive list of the 100 Best Places to Stay across the UK and the 2021 interactive edition is now available online at thetimes.co.uk/best-places-to-stay and as a supplement within the newspaper on Sunday 17 October.
Among its accolades, The Grand Hotel Birmingham has been named Central regional winner. Housed in one of Birmingham's most iconic buildings on Colmore Row, the luxury hotel is a Grade II* listed building. Following a £50million refurbishment, the hotel re-opened in May 2021 to include 185 bedrooms and suites, Madeleine cocktail bar, Isaac's New York-style restaurant, the unique Grand Ballroom and an additional nine meeting and event spaces.
Susan d'Arcy says in the guide;
"The UK's second city now has a fittingly smart hotel with a New York-style cocktail bar and brasserie… service at the Grand is warm, friendly, efficient and worthy of a gold medal."
The guide is split into eight regions: London, Southeast, Southwest, Central, East, North, Wales and Scotland. With writers from The Sunday Times travelling from the Highlands to Penzance, and buzzing boroughs to dozy backwaters, there's something for every taste, budget and location.
Peter Kienast, The Grand Hotel Birmingham's General Manager, said "We are so proud to be recognised as the regional winner in The Sunday Times Best Places to Stay guide. Launching The Grand Hotel Birmingham during a pandemic hasn't been without its challenges but we have forged ahead, always placing our guests' experiences front and centre. This accolade pays tribute to the illustrious pedigree of the hotel; to the care and attention to detail that went into its refurbishment; and it is testament to the passion and dedication of our wonderful team."
To book hotel accommodation or a table in Madeleine or Isaac's, visit thegrandhotelbirmingham.co.uk
Back to news