PR agency moves to grade II listed office
15 September 2021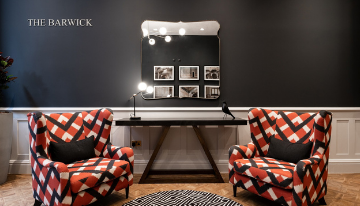 Hortons' Estate Ltd, the independent Birmingham property company, has welcomed PR agency Make More Noise to one of its premium city business district offices.
The agency has moved to the first floor of The Barwick, a sensitively refurbished grade II listed office building in Barwick Street, adjacent to Snow Hill Station, after agreeing a five-year lease for the 2173 sq ft space.
The company, which has moved from BE Offices in Temple Street, has invested more than £65,000 in the move to the boutique-style, three-storey office building, which forms part of the prestigious Grand Hotel scheme.
Family-owned Hortons' Estate spent more than £750,000 transforming The Barwick into 5,250 sq ft of Grade A self-contained office accommodation, converting meeting rooms and bedrooms at the former hotel, as well as the bar that once served the Grosvenor Ballroom.
Nina Meeks, of Hortons, said: "The Barwick is an historic office building in the heart of the Colmore Row Business District that has been refurbished to provide the highest standard of accommodation for today's business needs and I'm pleased that Make More Noise has chosen the space for the next chapter in its growth."
Hannah Haffield, Make More Noise director, said: "Although we have been located in central Birmingham for several years, we needed premises that could accommodate and support our long-term objectives.
"We looked around several offices, but felt The Barwick was a perfect choice due to its location, high standard of refurbishment and size. As an impressive, commercial premises located in a desirable area of central Birmingham, it offers an ideal office space to accommodate our long-term growth objectives, while helping us attract new talent to the business."
Earlier this year, WT, an independent and privately-owned construction and property consultancy, signed a five-year lease for 1,900 sq ft of space on the second floor at The Barwick.
Back to news